Update of FEMA 74, Reducing the Risks of Nonstructural Earthquake Damage - A Practical Guide
PROJECT OVERVIEW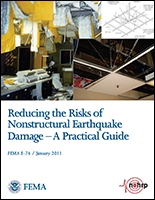 Title: Development of FEMA E-74, Reducing the Risks of Nonstructural Earthquake Damage - A Practical Guide  (ATC-69-1 and ATC-69-2 Projects)

Client: Federal Emergency Management Agency (FEMA)

Status: Completed in 2012.

Final Products:
The ATC-69-1 and ATC-69-2 projects developed the fourth edition of the FEMA 74 document (renamed FEMA E-74), Reducing the Risks of Nonstructural Earthquake Damage – A Practical Guide, which was initially published on the FEMA website in January 2012 and updated in December 2012. The document is intended for use by a nontechnical audience that includes building owners, facility managers, maintenance personnel, store or office managers, corporate or agency department heads, and homeowners. FEMA E-74 updates both the content and the format of the report. A considerable amount of new information now exists as a result of ongoing National Earthquake Hazard Reduction Program (NEHRP) activities, local and state government programs, private sector initiatives, and academic work focused on reducing the potential for nonstructural earthquake damage.
The document has been designed for use on the internet.  The e-document can be accessed on the FEMA website.
Click the following link for access to the FEMA E-74 Webinar Handout (01.04.2017).