ATC-125
ATC-125 PROJECT
PROJECT OVERVIEW
Project Title: Recovery Advisories for the South Napa Earthquake
Project Status: Report Published
Client: Federal Emergency Management Agency (FEMA)
PROJECT SUMMARY
Soon after some natural disasters, the Federal Emergency Management Agency (FEMA) develops Recovery Advisories—short (5 to 10 page) documents providing guidance on how to repair or mitigate specific issues identified in a particular disaster. The FEMA Building Science Branch often works with the Joint Field Office and uses the findings from Mitigation Assessment Team reports to inform the development of FEMA Recovery Advisories.
After the August 24, 2014, magnitude 6.0 South Napa earthquake, FEMA contracted the Applied Technology Council (ATC) to develop two FEMA Recovery Advisories related to: (1) masonry fireplace chimneys, and (2) cripple walls in residential structures. Although these Recovery Advisories were developed following the 2014 South Napa earthquake, the technical content is not specific to this earthquake: the Recovery Advisories may be used to aid the recovery process after future earthquakes and for pre-earthquake hazard mitigation.
These two FEMA South Napa Earthquake Recovery Advisories are also included in the appendices of FEMA P-1024, Performance of Buildings and Nonstructural Components in the 2014 South Napa Earthquake. FEMA P-1024 provides an assessment of the performance of a select number of buildings impacted by the earthquake and corresponding recommendations to further improve mitigation.
Repair of Earthquake-Damaged Masonry Fireplace Chimneys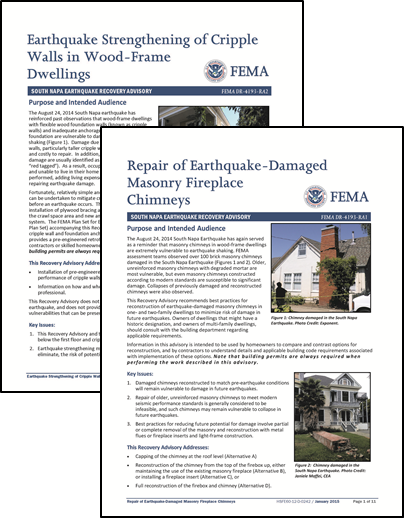 This FEMA Recovery Advisory recommends best practices for the reconstruction of earthquake-damaged masonry chimneys in one- or two-family dwellings to minimize risk of damage in future earthquakes. The best practices detailed in this advisory are also recommended for retrofit of masonry chimneys. The information included in the Recovery Advisory is intended to be used by homeowners to compare and contrast the various options for reconstruction and retrofit, as well as by contractors to understand details and applicable building code requirements associated with the implementation of these options. Readers should note that this Recovery Advisory does not fully detail construction requirements; a homeowner or contractor will still need to obtain a building permit to perform the work described in this advisory.
Earthquake Strengthening of Cripple Walls in Wood-Frame Dwellings
The South Napa earthquake damaged many cripple walls in residential structures, and many of the damaged cripple walls were taller than four feet. This FEMA Recovery Advisory addresses the earthquake strengthening of cripple walls and foundation anchorage in one- or two- family residential structures, supported by elevated concrete foundation systems and cripple walls not taller than approximately seven feet. In its first part, the Recovery Advisory describes the issue of earthquake strengthening of cripple walls and foundation anchorage for a typical homeowner. The second part is an accompanying Plan Set, which provides a pre-engineered retrofit solution and step-by-step instructions for use by knowledgeable contractors or skilled homeowners in customizing the work for the conditions in a specific dwelling. The contractor or homeowner must still obtain a building permit to perform the work described in this advisory.